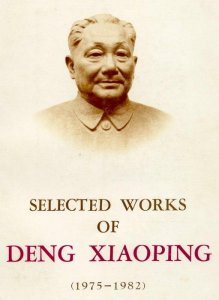 Synopsis
This volume contains 47 talks and speeches given by Deng Xiaoping from 1975 to 1982. Chronologically, it falls into three parts, divided by two major events:

1. The smashing of the Gang of Four in October 1976, which ended the 10-year turmoil of the Cultural Revolution

2. The convening of the Third Plenary Session of the Eleventh Central Committee of the Communist Party of China in December 1978, which repudiated the errors and restored the Party's tradition of seeking the truth through facts.


The First Part
The first part comprises eight pieces from 1975 to the end of the "Cultural Revolution." The country fell into dire peril at the time, for the Gang of Four ran amuck and Zhou Enlai had become seriously ill. They entrusted Deng with the responsibility for the day-to-day work of the Party and the state. He strove for an end of the reigning turmoil for stability, and improving China's economic performance. He tried to correct the mistakes of the "Cultural Revolution", unfortunately, once again they removed him from all his posts in 1976.
The Second Part
The second part covers the period form 1977 to 1978 and consists of 13 pieces. Deng devoted his main effort, even before he resumed leadership, to oppose the personality cult (of Chairman Mao); and he did all he could to encourage people to emancipate their minds and seek facts through truth.