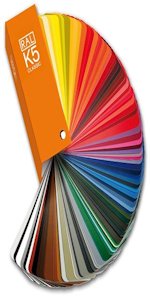 RAL Color Space System Standards
RAL Classic: In 1927 the German Reichs-Ausschuß für Lieferbedingungen und Gütesicherung" (Imperial Commission for Delivery Terms and Quality Assurance) invented a collection of 40 colors under the name of "RAL 840." Prior to that date manufacturers and customers had to exchange samples to describe a tint, whereas from then on they would rely on numbers.

In the 1930s the numbers were changed uniformly to four digits and the collection was renamed to "RAL 840 R" (R for revised). With tints constantly added to the collection, it was revised again in 1961 and changed to "RAL 840-HR", which consists of 210 colors and is in use to this day. In the 1960s the colors were given supplemental names to avoid confusion in case of transposed digits.

As "RAL 840-HR" covered only matte paint the 1980s saw the invention of "RAL 841-GL" for glossy surfaces, limited to 193 colors. A main criterion for colors in the RAL Classic collection is to be of "paramount interest". Therefore most of the colors in it are used on warning and traffic signs or are dedicated to government agencies and public services (for example: RAL 1004 - Swiss Postal Service, RAL 1021 - Austrian Postal Service, RAL 1032 - German Postal Service).

RAL Design: In 1993 a new color matching system was introduced, tailored to the needs of architects, designers and advertisers. It started with 1688 colors and was revised to 1625 colors. Contrary to the preceding systems RAL Design features no names and its numbering follows a scheme based on the CIELAB color space. Each color is represented by 7 digits, grouped in a triple and 2 pairs, representing hue, brightness and saturation. The colors of RAL Classic and RAL Design do not intersect.

"Colour Feeling 09/10" is primarily designed as a professional planning tool for designers, architects, interior designers, interior decorators and painters. It is meant to be a source of inspiration on how to creatively combine the main trend colors for the coming two years. But also general consumers can be inspired by the work book to develop their own ideas and to create their personal color design.
Return