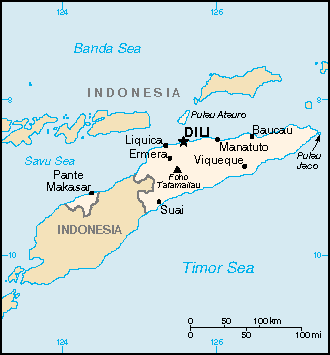 East Timor (also known as Timor-Leste)
Background: The Portuguese colony of Timor declared itself independent from Portugal on 28 November 1975 and was invaded and occupied by Indonesian forces nine days later. It was incorporated into Indonesia in July 1976 as the province of East Timor. A campaign of pacification followed over the next two decades, during which an estimated 100,000 to 250,000 individuals lost their lives. On 30 August 1999, in a UN-supervised popular referendum, the people of East Timor voted for independence from Indonesia. During 1999-2001, pro-integrationist militias - supported by Indonesia - conducted indiscriminate violence. On 20 May 2002, East Timor was internationally recognized as an independent state and the world's newest democracy.
Location: Location: Southeastern Asia, northwest of Australia in the Lesser Sunda Islands at the eastern end of the Indonesian archipelago; note - East Timor includes the eastern half of the island of Timor, the Oecussi (Ambeno) region on the northwest portion of the island of Timor, and the islands of Pulau Atauro and Pulau Jaco Area: Total: 15,007 sq km. Area - comparative: Slightly larger than Connecticut. Land boundaries: Total: 228 km; border countries: Indonesia 228 km. Coastline: 706 km.
Climate and Terrain: Climate: Tropical; hot, humid; distinct rainy and dry seasons. Terrain: Mountainous. Natural resources: Gold, petroleum, natural gas, manganese, marble.
People: Population: 997,853; note: other estimates range as low as 800,000. Ethnic groups: Austronesian (Malayo-Polynesian), Papuan, small Chinese minority. Religions: Roman Catholic 90%, Muslim 4%, Protestant 3%, Hindu 0.5%, Buddhist, Animist. Languages: Tetum (official), Portuguese (official), Indonesian, English note: there are about 16 indigenous languages; Tetum, Galole, Mambae, and Kemak are spoken by significant numbers of people.
Government: Government type: Republic. Capital: Dili.
Economy overview: In late 1999, about 70% of the economic infrastructure of East Timor was laid waste by Indonesian troops and anti-independence militias, and 260,000 people fled westward. Over the next three years, however, a massive international program, manned by 5,000 peacekeepers (8,000 at peak) and 1,300 police officers, led to substantial reconstruction in both urban and rural areas. By mid-2002, all but about 50,000 of the refugees had returned. The country faces great challenges in continuing the rebuilding of infrastructure and the strengthening of the infant civil administration. One promising long-term project is the planned development of oil resources in nearby waters.
Statistics: Railways: 0 km. Highways: Total: 3,800 km, paved: 428 km, unpaved: 3,372 km. Airports - with paved runways: 3, with unpaved runways: 5. Heliports: 1.
Map and Info on East Timor
Return to Visiting Locations
Return Opening Page