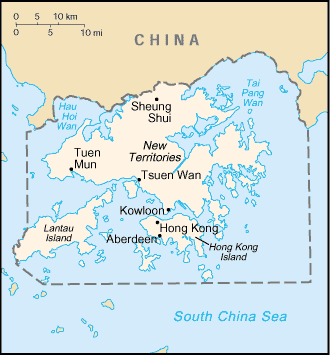 Hong Kong
Background: Occupied by the UK in 1841, Hong Kong was formally ceded by China the following year; various adjacent lands were added later in the 19th century. Pursuant to an agreement signed by China and the UK on 19 December 1984, Hong Kong became the Hong Kong Special Administrative Region (SAR) of China on 1 July 1997. In this agreement, China has promised that, under its "one country, two systems" formula, China's socialist economic system will not be imposed on Hong Kong and that Hong Kong will enjoy a high degree of autonomy in all matters except foreign and defense affairs for the next 50 years.
Location: Eastern Asia, bordering the South China Sea and China Area: Total: 1,092 sq km, water: 50 sq km, land: 1,042 sq km. Area - comparative: Six times the size of Washington, DC. Land boundaries: Total: 30 km, border countries: China 30 km. Coastline: 733 km.
Climate and Terrain: Climate: Tropical monsoon; cool and humid in winter, hot and rainy from spring through summer, warm and sunny in fall Terrain: Hilly to mountainous with steep slopes; lowlands in north Elevation extremes: Lowest point: South China Sea 0 m, highest point: Tai Mo Shan 958 m. Natural resources: Outstanding deepwater harbor, feldspar. More than 200 islands
People: Population: 7,303,334. Ethnic groups: Chinese 95%, other 5%. Religions: Eclectic mixture of local religions 90%, Christian 10%. Languages: Chinese (Cantonese), English; both are official.
Government: Dependency status: Special administrative region of China.
Economy overview: Hong Kong has a bustling free market economy highly dependent on international trade. Natural resources are limited, and food and raw materials must be imported. Indeed, imports and exports, including reexports, each exceed GDP in dollar value. Even before Hong Kong reverted to Chinese administration on 1 July 1997 it had extensive trade and investment ties with China. Per capita GDP compares with the level in the four big economies of Western Europe. GDP growth averaged a strong 5% in 1989-97. The widespread Asian economic difficulties in 1998 hit this trade-dependent economy quite hard, with GDP down 5%. The economy, with growth of 10% in 2000, recovered rapidly from the Asian financial crisis. The recent global downturn has badly hurt Hong Kong's exports and GDP growth is estimated to be 0% in 2001. Private sector analysts project 2002 GDP growth to be 1.8%. GDP - composition by sector: Agriculture: 0.1%, industry: 14.3%, services: 85.6%.
Statistics: Telephones - main lines in use: 3.839. Telephones - mobile cellular: 3.7 million. Radio broadcast stations: AM 7, FM 13. Radios: 4.45. Television broadcast stations: 4. Televisions: 1.84 million. Internet users: 3.93 million. Railways: Total: 34 km. Highways: Total: 1,831 km. Merchant marine: total: 433 ships. Airports: 3. Heliports: 2.
Detail Map and Info on Hong Kong
Return to Visiting Locations