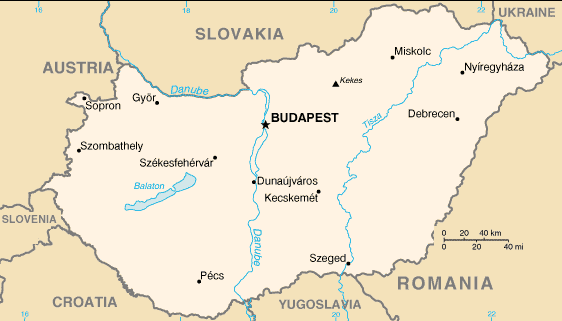 Hungary
Background: Hungary was part of the polyglot Austro-Hungarian Empire, which collapsed during World War I. The country fell under communist rule following World War II. In 1956, a revolt and announced withdrawal from the Warsaw Pact were met with a massive military intervention by Moscow. In the more open GORBACHEV years, Hungary led the movement to dissolve the Warsaw Pact and steadily shifted toward multiparty democracy and a market-oriented economy. Following the collapse of the USSR in 1991, Hungary developed close political and economic ties to Western Europe. It joined NATO in 1999 and is a frontrunner in a future expansion of the EU.
Location: Location: Central Europe, northwest of Romania. Area: Total: 93,030 sq km, water: 690 sq km, land: 92,340 sq km. Area - comparative: Slightly smaller than Indiana. Land boundaries: Total: 2,171 km, border countries: Austria 366 km, Croatia 329 km, Romania 443 km, Yugoslavia 151 km, Slovakia 677 km, Slovenia 102 km, Ukraine 103 km. Coastline: 0 km (landlocked).
Detail Map and Info on Hungary
Return to Visiting Locations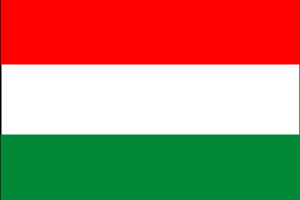 Climate and Terrain: Climate: Temperate; cold, cloudy, humid winters; warm summers. Terrain: Mostly flat to rolling plains; hills and low mountains on the Slovakian border.
People: Population: 10,075,034. Ethnic groups: Hungarian 89.9%, Roma 4%, German 2.6%, Serb 2%, Slovak 0.8%, Romanian 0.7%. Religions: Roman Catholic 67.5%, Calvinist 20%, Lutheran 5%, atheist and other 7.5%. Languages: Hungarian 98.2%, other 1.8%.
Government: Government type: Parliamentary democracy. Capital: Budapest. Independence: 1001 (unification by King Stephen I).
Economy overview: Hungary continues to demonstrate strong economic growth and to work toward accession to the European Union. The private sector accounts for over 80% of GDP. Foreign ownership of and investment in Hungarian firms is widespread, with cumulative foreign direct investment totaling more than $23 billion since 1989. Hungarian sovereign debt was upgraded in 2000 to the second-highest rating among all the Central European transition economies.
Statistics: Telephones - main lines in use: 3.095 million. Telephones - mobile cellular: 1.269 million. Radio broadcast stations: AM 17, FM 57, shortwave 3. Radios: 7.01 million. Television broadcast stations: 35 (plus 161 low-power repeaters). Televisions: 4.42 million. Internet users: 1.2 million. Railways: Total: 7,869 km. Highways: Total: 188,203 km, paved: 81,680 km, unpaved: 106,523 km. Airports: 43, with paved runways: 16, with unpaved runways: 27. Heliports: 5.