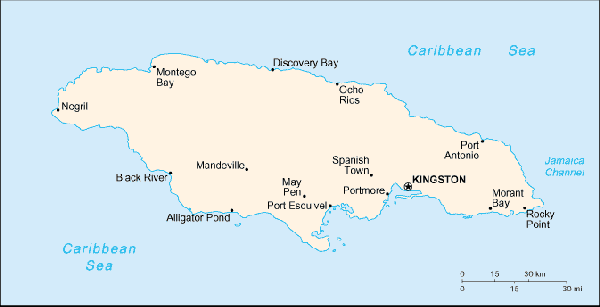 Jamaica
Background: Jamaica gained full independence within the British Commonwealth in 1962. Deteriorating economic conditions during the 1970s led to recurrent violence and a dropoff in tourism. Elections in 1980 saw the democratic socialists voted out of office. Subsequent governments have been open market oriented. Political violence marred elections during the 1990s.
Location: Caribbean, island in the Caribbean Sea, south of Cuba. Area: Total: 10,991 sq km, land: 10,831 sq km, water: 160 sq km. Area - comparative: Slightly smaller than Connecticut. Coastline: 1,022 km.
Climate and Terrain: Climate: Tropical; hot, humid; temperate interior.. Terrain: Mostly mountains, with narrow, discontinuous coastal plain. Natural resources: Bauxite, gypsum, limestone . Land use: Arable land: 16%, permanent crops: 9%, other: 75%.
Detail Map and Info on Jamaica
Return to Visiting Locations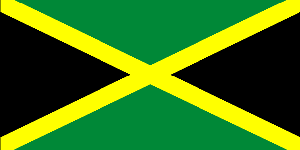 People: Population: 2,680,029. Ethnic groups: Black 90.9%, East Indian 1.3%, white 0.2%, Chinese 0.2%, mixed 7.3%, other 0.1%. Religions: Protestant 61.3% (Church of God 21.2%, Baptist 8.8%, Anglican 5.5%, Seventh-Day Adventist 9%, Pentecostal 7.6%, Methodist 2.7%, United Church 2.7%, Brethren 1.1%, Jehovah's Witness 1.6%, Moravian 1.1%), Roman Catholic 4%, other, including some spiritual cults 34.7%. Languages: English, patois English.
Government: Government type: Constitutional parliamentary democracy. Capital: Kingston. Independence: 6 August 1962 (from UK).
Economy overview: The economy, which depends heavily on tourism and bauxite, has been stagnant since 1995. After five years of recession, the economy grew 0.8% in 2000 and 1.1% in 2001, but the global economic slowdown, particularly in the United States after the 11 September terrorist attacks, has stunted the economic recovery. GDP - composition by sector: Agriculture: 7%, industry: 28%, services: 65%.
Statistics: Telephones - main lines in use: 353,000. Telephones - mobile cellular: 54,640. Radio broadcast stations: AM 10, FM 13. Radios: 1.215 million. Television broadcast stations: 7. Televisions: 460,000. Internet users: 60,000. Railways: Total: 272 km. Highways: Total: 19,000 km, paved: 13,433 km. unpaved: 5,567 km. Airports: 35, with paved runways: 11, with unpaved runways: 24.