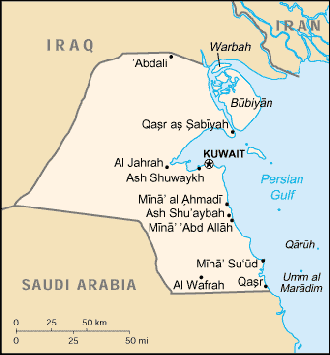 Kuwait
Background: Britain oversaw foreign relations and defense for the ruling Kuwaiti AL-SABAH dynasty from 1899 until independence in 1961. Kuwait was attacked and overrun by Iraq on 2 August 1990. Following several weeks of aerial bombardment, a US-led, UN coalition began a ground assault on 23 February 1991 that liberated Kuwait in four days. Kuwait spent more than $5 billion to repair oil infrastructure damaged during 1990-91.
Location: Location: Middle East, bordering the Persian Gulf, between Iraq and Saudi Arabia. Area: Total: 17,820 sq km. Area - comparative: Slightly smaller than New Jersey. Land boundaries: Total: 462 km, border countries: Iraq 240 km, Saudi Arabia 222 km. Coastline: 499 km.
Climate and Terrain:
People: Population: 2,183,161, note: includes 1,291,354 non-nationals. Ethnic groups: Kuwaiti 45%, other Arab 35%, South Asian 9%, Iranian 4%, other 7%. Religions: Muslim 85% (Sunni 70%, Shi'a 30%), Christian, Hindu, Parsi, and other 15%. Languages: Arabic (official), English widely spoken.
Government: Government type: Nominal constitutional monarchy. Capital: Kuwait. Independence: 19 June 1961 (from UK).
Economy overview: Kuwait is a small, rich, relatively open economy with proved crude oil reserves of about 98 billion barrels - 10% of world reserves. Petroleum accounts for nearly half of GDP, 95% of export revenues, and 80% of government income. Kuwait's climate limits agricultural development. Consequently, with the exception of fish, it depends almost wholly on food imports. About 75% of potable water must be distilled or imported. Kuwait continues its discussions with foreign oil companies to develop fields in the northern part of the country. Oil production declined by an estimated 8% in 2002 but is expected to return to the 2001 level in 2003.
Statistics: Telephones - main lines in use: 412,000. Telephones - mobile cellular: 210,000. Radio broadcast stations: AM 6, FM 11, shortwave 1. Radios: 1.175 million. Television broadcast stations: 13 (plus several satellite channels). Televisions: 875,000. Internet users: 200,000. Highways: Total: 4,450 km, paved: 3,587 km, unpaved: 863 km. Airports - with paved runways: 3, with unpaved runways: 3. Heliports: 3.
Map and Info on Kuwait
Return to Visiting Locations