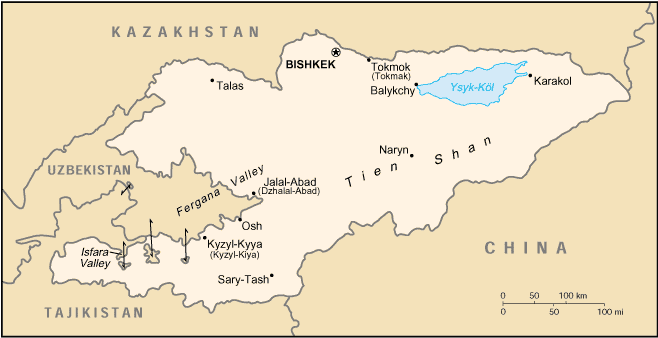 Kyrgyzstan
Background: A Central Asian country of incredible natural beauty and proud nomadic traditions, Kyrgyzstan was annexed by Russia in 1864; it achieved independence from the Soviet Union in 1991
Location: Central Asia, west of China Area: Total: 198,500 sq km land: 191,300 sq km water: 7,200 sq km Area - comparative: Slightly smaller than South Dakota Land boundaries: total: 3,878 km border countries: China 858 km, Kazakhstan 1,051 km, Tajikistan 870 km, Uzbekistan 1,099 km
Climate and Terrain: Climate: Dry continental to polar in high Tien Shan; subtropical in southwest (Fergana Valley); temperate in northern foothill zone. Terrain: Peaks of Tien Shan and associated valleys and basins encompass entire nation. Elevation extremes: Lowest point: Kara-Daryya 132 m highest point: Jengish Chokusu7,439 m. Land use: Arable land: 7%, 44%, forests and woodland: 4% , other: 45%. note: Kyrgyzstan has the world's largest natural growth walnut forest
Go to Detail Map and Info on Kyrgzstan
Return to Visiting Locations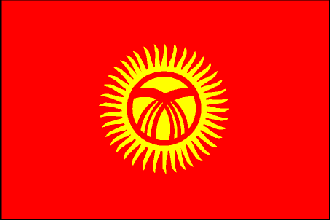 People: Population: 4,753,003. Ethnic groups: Kirghiz 52.4%, Russian 18%, Uzbek 12.9%, Ukrainian 2.5%, German 2.4%, other 11.8% Religions: Muslim 75%, Russian Orthodox 20%, other 5%. Languages: Kirghiz, Russian.
Government: Government type: Republic . Capital: Bishkek.
Economy overview: Kyrgyzstan is a small, poor, mountainous country with a predominantly agricultural economy. Cotton, wool, and meat are the main agricultural products and exports. Industrial exports include gold, mercury, uranium, and electricity. Kyrgyzstan has been one of the most progressive countries of the former Soviet Union in carrying out market reforms. Much of the government's stock in enterprises has been sold.
Statistics: Telephones - main lines in use: 351,000. Radio broadcast stations: AM, FM 14, shortwave 2. Radios: 520,000. Televisions: 210,000. Internet users: 10,000. Railways: Total: 370 km. Highways: Total: 18,500 km. Airports: paved runways: 4, unpaved runways: 46.