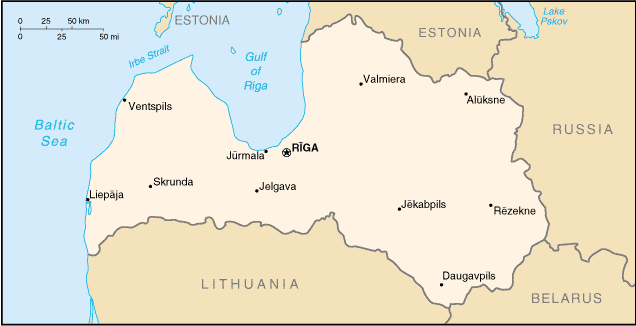 Latvia
Background: After a brief period of independence between the two World Wars, Latvia was annexed by the USSR in 1940. It reestablished its independence in 1991 following the breakup of the Soviet Union. Although the last Russian troops left in 1994, the status of the Russian minority (some 30% of the population) remains of concern to Moscow. Latvia continues to revamp its economy for eventual integration into various Western European political and economic institutions.
Location: Eastern Europe, bordering the Baltic Sea, between Estonia and Lithuania. Area: Total: 64,589 sq km, water: 1,000 sq km, land: 63,589 sq km. Area - comparative: Slightly larger than West Virginia. Land boundaries: Total: 1,150 km, border countries: Belarus 141 km, Estonia 339 km, Lithuania 453 km, Russia 217 km. Coastline: 531 km.
Map and Info on Latvia
Return to Visiting Locations

Climate and Terrain: Climate: Maritime; wet, moderate winters. Terrain: Low plain. Natural resources: Peat, limestone, dolomite, hydropower, wood, arable land, minimal; amber.
People: Population: 2,366,515. Ethnic groups: Latvian 57.7%, Russian 29.6%, Belarusian 4.1%, Ukrainian 2.7%, Polish 2.5%, Lithuanian 1.4%, other 2%. Religions: Lutheran, Roman Catholic, Russian Orthodox. Languages: Latvian (official), Lithuanian, Russian, other.
Government: Government type: Parliamentary democracy. Capital: Riga. Independence: 21 August 1991 (from Soviet Union).
Economy overview: Latvia's transitional economy recovered from the 1998 Russian financial crisis, largely due to the SKELE government's budget stringency and a gradual reorientation of exports toward EU countries, lessening Latvia's trade dependency on Russia. The majority of companies, banks, and real estate have been privatized. GDP - composition by sector: Agriculture: 5%, industry: 24%, services: 71%.
Statistics: Telephones - main lines in use: 734,693. Telephones - mobile cellular: 401,263. Radio broadcast stations: AM 8, FM 56, shortwave 1. Radios: 1.76 million. Television broadcast stations: 44 (plus 31 repeaters). Televisions: 1.22 million. Internet users: 310,000. Railways: Total: 2,412 km. Highways: Total: 59,178 km, paved: 22,843 km, unpaved: 36,335 km. Airports: 25, with paved runways: 13, with unpaved runways: 12.