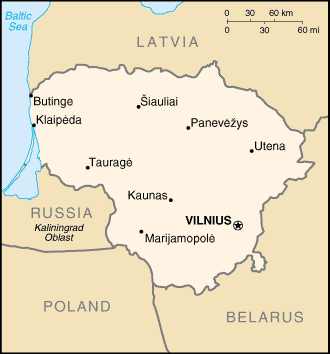 Lithuania
Background: Independent between the two World Wars, Lithuania was annexed by the USSR in 1940. On 11 March 1990, Lithuania became the first of the Soviet republics to declare its independence, but this proclamation was not generally recognized until September of 1991 (following the abortive coup in Moscow). The last Russian troops withdrew in 1993. Lithuania subsequently has restructured its economy for eventual integration into Western European institutions.
Location: Eastern Europe, bordering the Baltic Sea, between Latvia and Russia. Area: Total: 65,200 sq km, water: NA sq km, land: NA sq km. Area - comparative: Slightly larger than West Virginia. Land boundaries: Total: 1,273 km, border countries: Belarus 502 km, Latvia 453 km, Poland 91 km, Russia 227 km. Coastline: 99 km.
Climate and Terrain: Climate: Transitional, between maritime and continental; wet, moderate winters and summers. Terrain: Lowland, many scattered small lakes, fertile soil. Elevation extremes: Lowest point: Baltic Sea 0 m, highest point: Juozapines/Kalnas 292 m. Natural resources: Peat, arable land.
People: Population: 3,601,138. Ethnic groups: Lithuanian 80.6%, Russian 8.7%, Polish 7%, Belarusian 1.6%, other 2.1%. Religions: Roman Catholic (primarily), Lutheran, Russian Orthodox, Protestant, Evangelical Christian Baptist, Muslim, Jewish. Languages: Lithuanian (official), Polish, Russian. Government type: Parliamentary democracy.
Government: Capital: Vilnius. Independence: 11 March 1990 (independence declared from Soviet Union); 6 September 1991 (Soviet Union recognizes Lithuania's independence).
Economy overview: Lithuania, the Baltic state that has conducted the most trade with Russia, has been slowly rebounding from the 1998 Russian financial crisis. High unemployment, at 12.5% in 2001, and weak consumption have held back recovery. Trade has been increasingly oriented toward the West. Lithuania has gained membership in the World Trade Organization and has moved ahead with plans to join the EU. Privatization of the large, state-owned utilities, particularly in the energy sector, is underway. GDP - composition by sector: Agriculture: 9%, industry: 32%, services: 59%.
Statistics: Telephones - main lines in use: 1.142 million. Telephones - mobile cellular: 500,000. Radio broadcast stations: AM 29, FM 142, shortwave 1. Radios: 1.9 million. Television broadcast stations: 27, note: Lithuania has approximately 27 broadcasting stations, but may have as many as 100 transmitters, including repeater stations. Televisions: 1.7 million. (1997) Internet users: 341,000. Railways: Total: 1,998 km. Highways: Total: 44,000 km, paved: 35,500 km, unpaved: 8,500 km. Airports: 72, with paved runways: 9, with unpaved runways: 63.
Detail Map and Info on Lithuania
Return to Visiting Locations