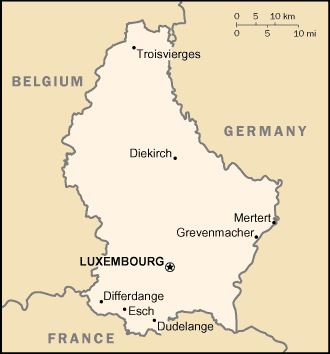 Luxembourg
Background: Founded in 963, Luxembourg became a grand duchy in 1815 and an independent state under the Netherlands. It lost more than half of its territory to Belgium in 1839, but gained a larger measure of autonomy. Full independence was attained in 1867. Overrun by Germany in both World Wars, it ended its neutrality in 1948 when it entered into the Benelux Customs Union and when it joined NATO the following year. In 1957, Luxembourg became one of the six founding countries of the European Economic Community (later the European Union) and in 1999 it joined the euro currency area.
Location: Western Europe, between France and Germany. Area: Total: 2,586 sq km, water: 0 sq km, land: 2,586 sq km. Area - comparative: Slightly smaller than Rhode Island. Land boundaries: Total: 359 km, border countries: Belgium 148 km, France 73 km, Germany 138 km. Coastline: 0 km (landlocked).
Climate and Terrain: Climate: Modified continental with mild winters, cool summers. Terrain: Mostly gently rolling uplands with broad, shallow valleys; uplands to slightly mountainous in the north; steep slope down to Moselle flood plain in the southeast. Elevation extremes: Lowest point: Moselle River 133 m, highest point: Buurgplaatz 559 m. Natural resources: Iron ore (no longer exploited), arable land
People: Population: 448,569. Ethnic groups: Celtic base (with French and German blend), Portuguese, Italian, Slavs (from Montenegro, Albania, and Kososvo) and European (guest and resident workers). Religions: The greatest preponderance of the population is Roman Catholic with a very few Protestants, Jews, and Muslims note: 1979 legislation forbids the collection of religious statistics. Languages: Luxembourgish (national language), German (administrative language), French (administrative language).
Government: Government type: Constitutional monarchy. Capital: Luxembourg. Independence: 1839 (from the Netherlands).
Economy overview: This stable, high-income economy features solid growth, low inflation, and low unemployment. The industrial sector, initially dominated by steel, has become increasingly diversified to include chemicals, rubber, and other products. Growth in the financial sector has more than compensated for the decline in steel. Services, especially banking, account for a substantial proportion of the economy. Agriculture is based on small family-owned farms. The economy depends on foreign and trans-border workers for 30% of its labor force. Although Luxembourg, like all EU members, has suffered from the global economic slump, the country has maintained a fairly robust growth rate. On 1 January 2002, Luxembourg - together with 11 of its EU partners - began to replace its circulating national currency with the euro. GDP - composition by sector: Agriculture: 1%, industry: 30%, services: 69%,
Statistics: Telephones - main lines in use: 314,700. Telephones - mobile cellular: 215,741. Radio broadcast stations: AM 2, FM 9, shortwave 2. Radios: 285,000. Television broadcast stations: 5. Televisions: 285,000. Internet users: 100,000. Railways: Total: 274 km. Highways: Total: 5,166 km, paved: 5,166 km, unpaved: 0 km. Airports: 2, with paved runways: 1, with unpaved runways: 1. Heliports: 1.
Detail Map and Info on Luxembourg
Return to Visiting Locations