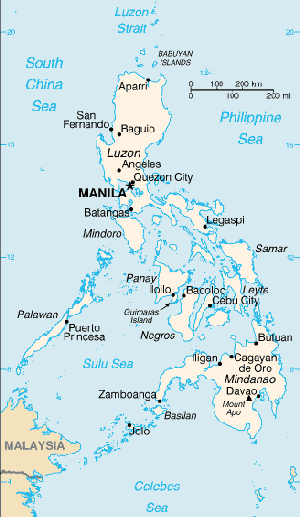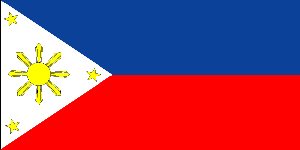 Philippines
Background: The Philippines were ceded by Spain to the US in 1898 following the Spanish-American War. They attained their independence in 1946 after Japanese occupation in World War II. The 21-year rule of Ferdinand MARCOS ended in 1986 when a widespread popular rebellion forced him into exile. In 1992, the US closed its last military bases on the islands. The Philippines has had two electoral presidential transitions since Marcos' removal by "people power." In January 2001, the Supreme Court declared Joseph ESTRADA unable to rule in view of mass resignations from his government and administered the oath of office to Vice President Gloria MACAPAGAL-ARROYO as his constitutional successor. The government continues to struggle with ongoing Muslim insurgencies in the south.
Location: Southeastern Asia, archipelago between the Philippine Sea and the South China Sea, east of Vietnam. Area: Total: 300,000 sq km, water: 1,830 sq km, land: 298,170 sq km. Area - comparative: Slightly larger than Arizona. Coastline: 36,289 km.
Climate and Terrain: Climate: Tropical marine; northeast monsoon (November to April); southwest monsoon (May to October). Terrain: Mostly mountains with narrow to extensive coastal lowlands.
People: Population: 84,525,639. Ethnic groups: Christian Malay 91.5%, Muslim Malay 4%, Chinese 1.5%, other 3%. Religions: Roman Catholic 83%, Protestant 9%, Muslim 5%, Buddhist and other 3%. Languages: Two official languages - Filipino (based on Tagalog) and English; eight major dialects - Tagalog, Cebuano, Ilocan, Hiligaynon or Ilonggo, Bicol, Waray, Pampango, and Pangasinense.
Government: Government type: Republic. Capital: Manila. Independence: 4 July 1946 (from US).
Economy overview: In 1998 the Philippine economy - a mixture of agriculture, light industry, and supporting services - deteriorated as a result of spillover from the Asian financial crisis and poor weather conditions. Growth fell to 0.6% in 1998 from 5% in 1997, but recovered to about 3% in 1999 and 4% in 2000. The government has promised to continue its economic reforms to help the Philippines match the pace of development in the newly industrialized countries of East Asia. The strategy includes improving infrastructure, overhauling the tax system to bolster government revenues, furthering deregulation and privatization of the economy, and increasing trade integration with the region.
Statistics: Telephones - main lines in use: 3.1 million. Telephones - mobile cellular: 6.5 million. Radio broadcast stations: AM 366, FM 290, shortwave 5. Radios: 11.5 million. Television broadcast stations: 75. Televisions: 3.7 million. Internet users: 2 million. Railways: Total: 897 km. Highways: Total: 199,950 km, paved: 39,590 km, unpaved: 160,360 km. Airports: 275, with paved runways: 77, with unpaved runways: 198. Heliports: 2.
Detail Map of the Philippines
Return to Visiting Locations