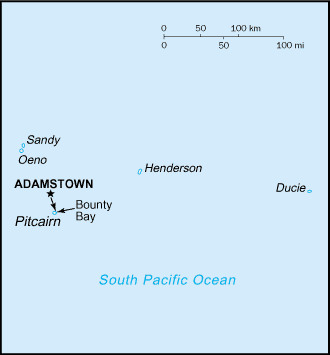 Pitcairn Islands
Background: Pitcairn Island was discovered in 1767 by the British and settled in 1790 by the Bounty mutineers and their Tahitian companions. Pitcairn was the first Pacific island to become a British colony (in 1838) and today remains the last vestige of that empire in the South Pacific. Out migration, primarily to New Zealand, has thinned the population from a peak of 233 in 1937 to less than 50 today..
Location: Location: Oceania, islands in the South Pacific Ocean, about midway between Peru and New Zealand. Area: total: 47 sq km. Area - comparative: About 0.3 times the size of Washington, DC. Coastline: 51 km.
Climate and Terrain: Climate: Tropical, hot, humid; modified by southeast trade winds; rainy season (November to March). Terrain: Rugged volcanic formation; rocky coastline with cliffs. Natural resources: Miro trees (used for handicrafts), fish; note: manganese, iron, copper, gold, silver, and zinc have been discovered offshore. Environment - current issues: Deforestation (only a small portion of the original forest remains because of burning and clearing for settlement). Geography - note: Britain's most isolated dependency; only the larger island of Pitcairn is inhabited but it has no port or natural harbor; supplies must be transported by rowed longboat from larger ships stationed offshore.
People: Population: 47. Ethnic groups: Descendants of the Bounty mutineers and their Tahitian wives. Religions: Seventh-Day Adventist 100%. Languages: English (official), Pitcairnese (mixture of an 18th century English dialect and a Tahitian dialect).
Government: Dependency status: Overseas territory of the UK Capital: Adamstown.
Economy overview: The inhabitants of this tiny isolated economy exist on fishing, subsistence farming, handicrafts, and postage stamps. The fertile soil of the valleys produces a wide variety of fruits and vegetables, including citrus, sugarcane, watermelons, bananas, yams, and beans. Bartering is an important part of the economy. The major sources of revenue are the sale of postage stamps to collectors and the sale of handicrafts to passing ships. Labor force: 12 able-bodied men. Labor force - by occupation: No business community in the usual sense; some public works; subsistence farming and fishing. Industries: Postage stamps, handicrafts.
Statistics: Telephones - main lines in use: 1 (there are 17 telephones on one party line). Radio broadcast stations: AM 1. Railways: 0 km. Highways: Total: 6.4 km. Airports: None.
Map and Info on Pitcairn Islands
Return to Visiting Locations