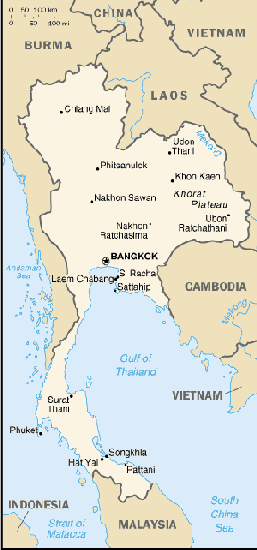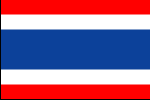 Thailand
Background: A unified Thai kingdom was established in the mid-14th century. Known as Siam until 1939, Thailand is the only Southeast Asian country never to have been taken over by a European power. A bloodless revolution in 1932 led to a constitutional monarchy. In alliance with Japan during World War II, Thailand became a US ally following the conflict.
Location: Southeastern Asia, bordering the Andaman Sea and the Gulf of Thailand, southeast of Burma. Area: total: 514,000 sq km, water: 2,230 sq km, land: 511,770 sq km. Area - comparative: Slightly more than twice the size of Wyoming. Land boundaries: Total: 4,863 km, border countries: Burma 1,800 km, Cambodia 803 km, Laos 1,754 km, Malaysia 506 km, Coastline: 3,219 km.
Climate and Terrain: Climate: Tropical; rainy, warm, cloudy southwest monsoon (mid-May to September); dry, cool northeast monsoon (November to mid-March); southern isthmus always hot and humid. Terrain: Central plain; Khorat Plateau in the east; mountains elsewhere. Elevation extremes: Lowest point: Gulf of Thailand 0 m, highest point: Doi Inthanon 2,576 m. Natural resources: Tin, rubber, natural gas, tungsten, tantalum, timber, lead, fish, gypsum, lignite, fluorite, arable land.
People: Population: 62,354,402. Ethnic groups: Thai 75%, Chinese 14%, other 11%. Religions: Buddhism 95%, Muslim 3.8%, Christianity 0.5%, Hinduism 0.1%, other 0.6%. Languages: Thai, English (secondary language of the elite), ethnic and regional dialects.
Government: Government type: Constitutional monarchy. Capital: Bangkok. Independence: 1238 (traditional founding date; never colonized).
Economy overview: After enjoying the world's highest growth rate from 1985 to 1995 - averaging almost 9% annually - increased speculative pressure on Thailand's currency in 1997 led to a crisis that uncovered financial sector weaknesses and forced the government to float the baht. Long pegged at 25 to the dollar, the baht reached its lowest point of 56 to the dollar in January 1998 and the economy contracted by 10.2% that same year. Thailand entered a recovery stage in 1999, expanding 4.2% and grew 4.4% in 2000, largely due to strong exports - which increased about 20% in 2000. GDP - composition by sector: Agriculture: 11%, industry: 40%, services: 49%.
Statistics: Telephones - main lines in use: 5.6 million. Telephones - mobile cellular: 3.1 million. Radio broadcast stations: AM 204, FM 334, shortwave 6. Radios: 13.96 million. Television broadcast stations: 5 (all in Bangkok; plus 131 repeaters). Televisions: 15.19 million. Internet users: 2.3 million. Railways: Total: 4,071 km. Highways: Total: 64,600 km, paved: 62,985 km. unpaved: 1,615 km. Airports: 110, with paved runways: 59, with unpaved runways: 51. Heliports: 2.
Map and Info on Thailand
Return to Visiting Locations