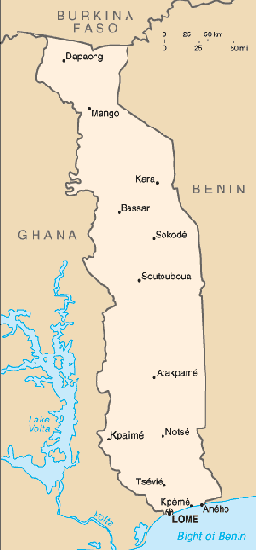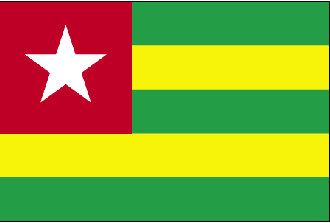 Togo
Background: French Togoland became Togo in 1960. Gen. Gnassingbe Eyadema, installed as military ruler in 1967, is Africa's longest-serving head of state. Despite the facade of multiparty elections instituted in the early 1990s, the government continues to be dominated by President Eyadema, whose Rally of the Togolese People (RPT) party has maintained power almost continually since 1967. In addition, Togo has come under fire from international organizations for human rights abuses and is plagued by political unrest. Most bilateral and multilateral aid to Togo remains frozen.
Location: Location: Western Africa, bordering the Bight of Benin, between Benin and Ghana. Area: total: 56,785 sq km, water: 2,400 sq km, land: 54,385 sq km, Area - comparative: Slightly smaller than West Virginia. Land boundaries: Total: 1,647 km, border countries: Benin 644 km, Burkina Faso 126 km, Ghana 877 km. Coastline: 56 km.
Climate and Terrain:
People: Population: 5,429,299. Ethnic groups: Native African (37 tribes; largest and most important are Ewe, Mina, and Kabre) 99%, European and Syrian-Lebanese less than 1%. Religions: Indigenous beliefs 51%, Christian 29%, Muslim 20%. Languages: French (official and the language of commerce), Ewe and Mina (the two major African languages in the south), Kabye (sometimes spelled Kabiye) and Dagomba (the two major African languages in the north.)
Government: Government type: Republic under transition to multiparty democratic rule. Capital: Lome. Independence: 27 April 1960 (from French-administered UN trusteeship).
Economy overview: This small sub-Saharan economy is heavily dependent on both commercial and subsistence agriculture, which provides employment for 65% of the labor force. Some basic foodstuffs must still be imported. Cocoa, coffee, and cotton generate about 40% of export earnings, with cotton being the most important cash crop. Togo is the world's fourth-largest producer of phosphate, but production fell an estimated 22% in 2002 due to power shortages and the cost of developing new deposits. The government's decade-long effort, supported by the World Bank and the IMF, to implement economic reform measures, encourage foreign investment, and bring revenues in line with expenditures has moved slowly.
Statistics: Telephones - main lines in use: 25,000. Telephones - mobile cellular: 2,995. Radio broadcast stations: AM 2, FM 9, shortwave 4. Radios: 940,000. Television broadcast stations: 3 (plus two repeaters). Televisions: 73,000. Internet users: 50,000. Railways: Total: 525 km. Highways: Total: 7,520 km, paved: 2,376 km, unpaved: 5,144 km. Airports - with paved runways: 2, with unpaved runways: 7.
Detail Map and Info on Togo
Return to Visiting Locations