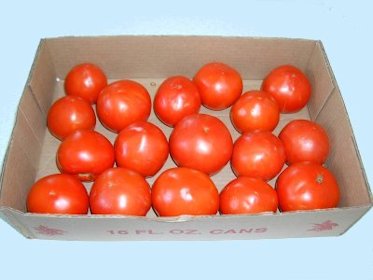 Canning Tomato Juice Recipe
Wash and drain firm, fresh, red-ripe tomatoes.
One small decayed spot can cause the whole batch to spoil.
Remove core and blossom ends.
Cut into small pieces and cook slowly (simmer) until soft, stirring often.
Press through fine sieve or food mill. OR
Another option is to slip the skins.
And put them through a blender.
Reheat juice until it is almost, but not quite boiling.
Pour, hot, into jars leaving 1/4-inch headspace.
Wipe rim, place lids and tighten rings.
Water bath or Steam Can pints 10 minutes, quarts 15 minutes. We use a steam canner.

Before reheating, salt, sugar, and spices of your choice can be added.
Garlic, summer savory, oregano, and onion salt, are some possibilities.
Return to Juice Canning Choices
Back to Home Page