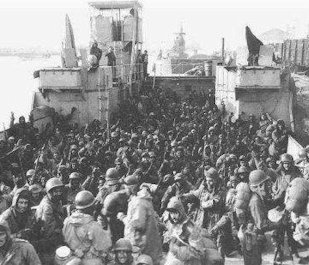 5. I Almost Stay in North Korea in Korea -- December, 1950
X Corps is Evacuated from Hungnam Harbor
After the Marines had successfully fought their way out of the Chosin Reservoir my Signal Unit was released from our duty at Jade Relay #2 and we worked our way south to the City of Hamhung. We stayed there for a short while and eventually we were ordered to proceed to Hungnam a few miles away to be put aboard ships going south to Pusan. Because I was a truck driver for our team I was assigned to travel with my truck aboard a freighter. When we arrived at the pier where the boarding was taking place there were, seemingly to me, thousands of troops waiting for boarding instructions. The pier was covered with perhaps a foot of snow and the snow was still falling lightly. I had not had much sleep in the past week and I was dead tired. I crawled into my sleeping bag and went to sleep in the midst of all those people. I just didn't care anymore.

Bright Lights and a Siren Wake Me

Sometime later, I had no idea of the passing time; I was awakened by some extremely bright lights and deafening noise. I stuck my head out of the sleeping bag to discover I was the only one still on the pier. No one except me. Wow! Where was everyone and why the light that blinded me?