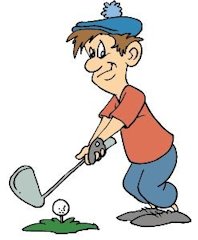 There was a golfer from Verdun
Who was not to be outdone.
To avoid glitches
He carried spare britches
In case he got a hole in one.


There once was a lady named Lynn
Who was so uncommonly thin,
that when she assayed
to drink lemonade,
she slipped through the straw and fell in!


By beauty I am not a star.
There are others more handsome by far.
My face I don't mind it.
Because I'm behind it.
It's the people in front that I jar.


There was a young lady one fall
Who wore a newspaper dress to a ball.
The dress caught fire
And burned her entire
Front page, sporting section and all.