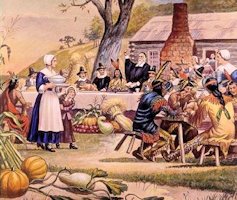 Some Common Myths Thought to be True - Myth 10
Myth 10: First Thanksgiving was at Plymouth Colony
The first documented thanksgiving feasts in territory currently belonging to the United States were conducted by Spaniards in the 16th century. Thanksgiving services were routine in what was to become the Commonwealth of Virginia as early as 1607,[9] with the first permanent settlement of Jamestown, Virginia holding a thanksgiving in 1610.

On December 4, 1619, 38 English settlers arrived at Berkeley Hundred, which comprised about 8,000 acres (3,200 ha) on the north bank of the James River, near Herring Creek, in an area then known as Charles Cittie, about 20 miles (32 km) upstream from Jamestown, where the first permanent settlement of the Colony of Virginia had been established on May 14, 1607. The group's charter required that the day of arrival be observed yearly as a "day of thanksgiving" to God.
Americans commonly trace the Thanksgiving holiday to a 1621 celebration at the Plymouth Plantation, where the Plymouth settlers held a harvest feast after a successful growing season. Autumn or early winter feasts continued sporadically in later years, first as an impromptu religious observance, and later as a civil tradition.

The Pilgrims celebrated at Plymouth for three days after their first harvest, in 1621. Seventeenth-century accounts do not identify this as a Thanksgiving observance, rather it followed the harvest. Two colonists gave personal accounts of the 1621 feast in Plymouth, Massachusetts. The Pilgrims, most of whom were Separatists (English Dissenters), are not to be confused with Puritans who established their own Massachusetts Bay Colony nearby (current day Boston) in 1628 and had very different religious beliefs.