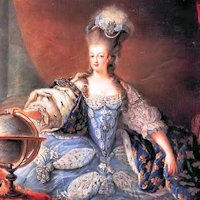 Some Common Myths Thought to be True - Myth 11
Myth 11: Marie Told Masses they Should be "Eating Cake"
The phrase "Let them eat cake" is often attributed to Marie Antoinette, but there is no evidence she ever uttered it, and it is now generally regarded as a "journalistic cliché." It may have been a rumor started by angry French peasants as a form of libel. This phrase originally appeared in Book VI of the first part (finished in 1767, published in 1782) of Rousseau's putative autobiographical work, Les Confessions. Finally I recalled the stopgap solution of a great princess who was told that the peasants had no bread, and who responded: "Let them eat brioche."

Apart from the fact that Rousseau ascribes these words to an unknown princess - vaguely referred to as a "great princess," there is some level of thought that he invented it altogether, seeing as Confessions was, on the whole, a rather inaccurate autobiography.
Marie Antoinette, baptized Maria Antonia Josepha, born an Archduchess of Austria, was Dauphine of France from 1770 to 1774 and Queen of France and Navarre from 1774 to 1792. She was the fifteenth and penultimate child of Holy Roman Emperor Francis I and Empress Maria Theresa.

In April 1770, upon her marriage to Louis-Auguste, Dauphin of France, she became Dauphine of France. Marie Antoinette assumed the title of Queen of France and of Navarre when her husband, Louis XVI of France, ascended the throne upon the death of Louis XV in May 1774. After seven years of marriage, she gave birth to a daughter, Marie-Thérèse Charlotte, the first of four children.